Badlands Logo

'

Created on

July ??, 2011

Created by

Mr_Zipper

Location
The Badlands Logo was a landmark that became quite well known in the Badlands. Originally created by Mr_Zipper, this logo hovered over the Badlands Bank for months, and represented the longevity of the server.
History/Trivia
Edit
The Badlands Logo was created during a push by Mr_Zipper to motivate people to build more for the server.
In August of 2011, Mr_Zipper added the words "Welcome to the" above the word "Badlands"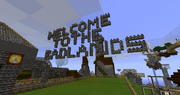 The Badlands Logo was places directly above the Badlands Bank and across from the Old Badlands Spawn. In fact, much of the scaffolding used to make the sign was set on the Bank's roof!