Mendeleev is a tribe created by thecowdiva and Fluffy253. It is based off The Periodic Table of the Elements, with each district representing an element. It's location is relatively close to Wautoma, about 8000 blocks to the west.
Districts
Edit
The Carbon District was the first section of the town. It contains the spawn, farms, the information hut, and a small apartment building. To the south is the Oxygen District, to the west is the town gate, north is the Gold District, and east is where the Darm Stadium is planned.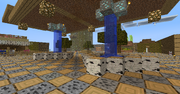 The Gold District is the smallest district, which contains only the Mendeleev Bank, the home of ZergMercR, and the community chest, plus a small community pool.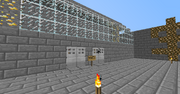 Built entirely out of floating snow "cloud" platforms, the Oxygen District is the only district without walls. Currently the Oxygen District contains only available plots. There are 6 small (9 x 9) plots and 4 medium (12 x 12) plots. Larger plots are built on request.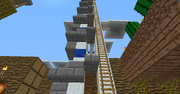 The entrance to the Oxygen District is a staircase on the south side of the Carbon District. Since the staircase is very dangerous to climb, there is a ladder next to it.
Darm Stadium
Edit
The Darm Stadium is a planned arena for PVP and other events. The name is a pun on the element Darmstadtium.