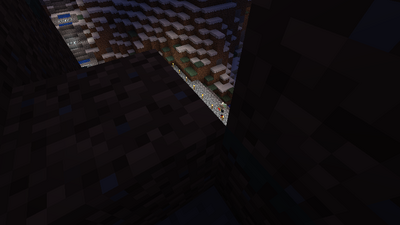 whitejay the hermit is a traveling man. he stays out of public but is hirable for odd jobs. He lives in a mountain of the not so populated blue road. In the picture (right he is traveling o his house. I was not able to follow i like to keep pvp on and he killed me. whitejay joined the server not to long after the update. he leaves along books on where to find him in his houses. if you find one it may lead you to some wealth. I discovered a house in a taiga uninhabited (he is usaully found in taiga). All that wa sleft was a book. it gave directions ona location i walked to it and saw a nametag.
first book had some tips:
when fighting enders fight under low trees
when fighting players run through turn around and hit
healing potions hurt zed
fight powerful enemies by hitting them off higher ground

One of his allies is snargeinspector he has not returned since the update. whitejay is what you need him to be. he says he'll be muscle for your army, Builder of your structures, farmer for your crops, or miner for your needs. I am going to try and keep you updated i am interested to see what the maps lead to and ill let you all know. ill continue bios as i learn more.
keep your eyes peeled Uber panda man (talk) 23:29, September 28, 2012 (UTC)uber